For the #1 Dumpster Rental Lyman SC Can Provide, Choose USA Dump & Roll!
Book the dumpster rental Lyman SC residents, businesses, construction professionals, property managers, and individuals use to safely and successfully remove waste with ease from the knowledgeable and helpful team at USA Dump & Roll LLC! Our goal is to make sure our customers in Lyman, South Carolina, and surrounding areas have everything they need to clear the waste, complete their projects, and move on without breaking the bank.

We've been there; we get it. We're in the house-flipping business and understand the needs of the industry. Something as seemingly straightforward as trash can suddenly become overwhelming with all the dos and don'ts of proper disposal practices. We know it's frustrating and costly to find out about fees and landfill regulations after the fact. That's why we're committed to clear expectations, transparent pricing, low base rental costs, booking convenience, and flexibility when we can. All of these factors are part of our commitment to providing great value by offering a range of options for a dumpster rental Lyman SC can count on for all residential and commercial projects.

As a veteran-owned and operated company, we prioritize building lasting relationships with our customers by providing the #1 dumpster rental Lyman SC has to offer, no matter the size, timeframe, or budget for your upcoming project. Use our online reservation system or give us a call at (864) 707-8200 to schedule a rental with us. Have a dumpster already, but need to extend the rental period? We can be reached by phone, text, or email, and we'll get you squared away. Schedule online today!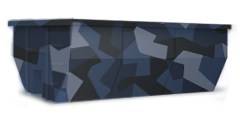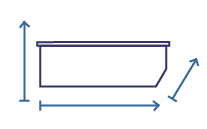 Dimensions
11'L x 6.6'W x 3.6'H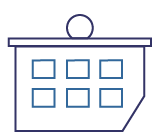 Rental Time
Up to 14 Days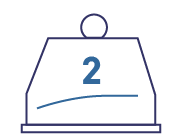 Included Tonnage
1 included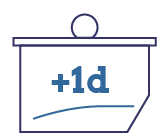 Additional Days
:
$5/day
Extra Weight
:
$65/ton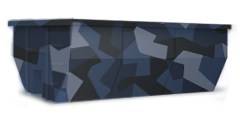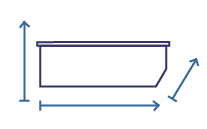 Dimensions
13'L x 7'W x 4.25'H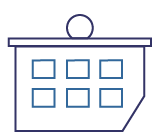 Rental Time
Up to 14 Days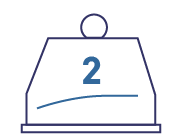 Included Tonnage
2 included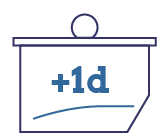 Additional Days
:
$5/day
Extra Weight
:
$65/ton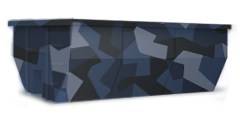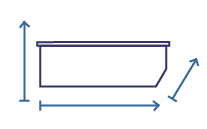 Dimensions
13.5'L x 7.3'W x 5.8'H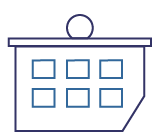 Rental Time
Up to 14 Days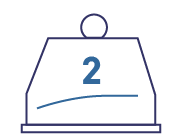 Included Tonnage
2 included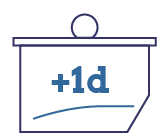 Additional Days
:
$5/day
Extra Weight
:
$65/ton
We take just about everything
Some examples of the junk we haul away include:
Included



Garbage



Yard Waste*



Construction Debris



Regular Light Bulbs


TBD

$

Paint & Tires*



$

Mattresses*



$

Depressurized Appliances*



$

Electronics*



$

Vehicle Batteries*



$

Depressurized Gas Bottles*



$

Rear Projectors*
Not Included

X

Medical Waste



X

Animal Carcasses



X

Solvents & Liquids



X

Asbestos



X

Fluorescent & Mercury Bulbs



X

Over 1/4 full of concrete/rock
Use a Dumpster Rental in Lyman SC to Complete a Range of Projects With Ease
When you schedule a dumpster rental in Lyman SC from the professional and friendly team at USA Dump & Roll, you can book with confidence knowing that our team is ready and willing to guide you through the process, deliver a bin on time at the location of your choice, and do everything we can to ensure your residential or commercial waste disposal project is as stress-free and effortless as possible. With convenient online booking, knowledgeable team members, and versatile sizes for the waste dumpster rental Lyman SC homeowners, contractors, and small businesses choose first, we're the #1 rated company in Lyman County and surrounding areas.

We work with the Lyman Landfill to ensure all waste is disposed of responsibly and in accordance with local regulations. Certain items will incur an additional disposal fee while we diligently avoid disposing of any hazardous materials to promote sustainable, environmentally conscious practices with each and every rental. If you're shopping around for a dumpster rental in Lyman SC to help support your rental property remodeling project or a long-term infrastructure work site, we provide the services and selections that allow you to contain and clear waste as seamlessly as possible, allowing you to focus your time and attention elsewhere. Use our modern online booking platform to seamlessly schedule your dumpster delivery in a matter of minutes, whether you're on the job site, working from home, or out and about.
Rent a Dumpster Lyman SC Homeowners Depend On for Safety and Convenience
Rent a dumpster Lyman SChomeowners know will help them clear the waste in no time at all with the support of USA Dump and Roll LLC! We regularly partner with Lyman County residents to help support all of their short or long-term waste debris maintenance needs, including garage or attic cleanouts, interior or exterior renovations, roofing repairs, flooring or tile removal, driveway or sidewalk demolitions, general cleanouts, single-room renovations, and other residential needs of all varieties.

We offer three container sizes to help meet the specific needs of all of our clientele, no matter the scale or scope of your upcoming project. We're confident we offer the most sought-after dumpster service, Lyman, SC has to offer and are available to answer any questions along the way!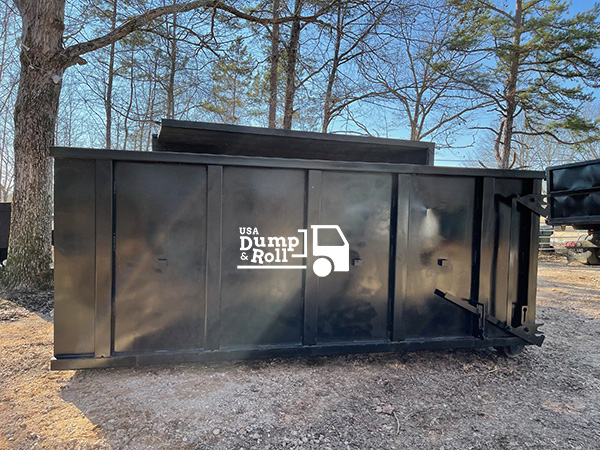 Dumpster Rental in Lyman, SC for Yard Waste and Outdoor Projects
Schedule a dumpster rental in Lyman, SC to quickly and efficiently remove yard waste and complete a range of outdoor projects in a stress-free and uncomplicated manner. Increase your curb appeal and design the yard of your dreams with the added support of an easy-loading roll-off bin at your side to conveniently contain and haul away unwanted waste, including limbs, branches, brush, storm debris, construction materials, and more. When you book a dumpster container rental Lyman SC homeowners and property managers use year-round for your upcoming outdoor renovation, landscaping efforts, or other yard maintenance, you'll be amazed at how quickly and efficiently you can get the job done.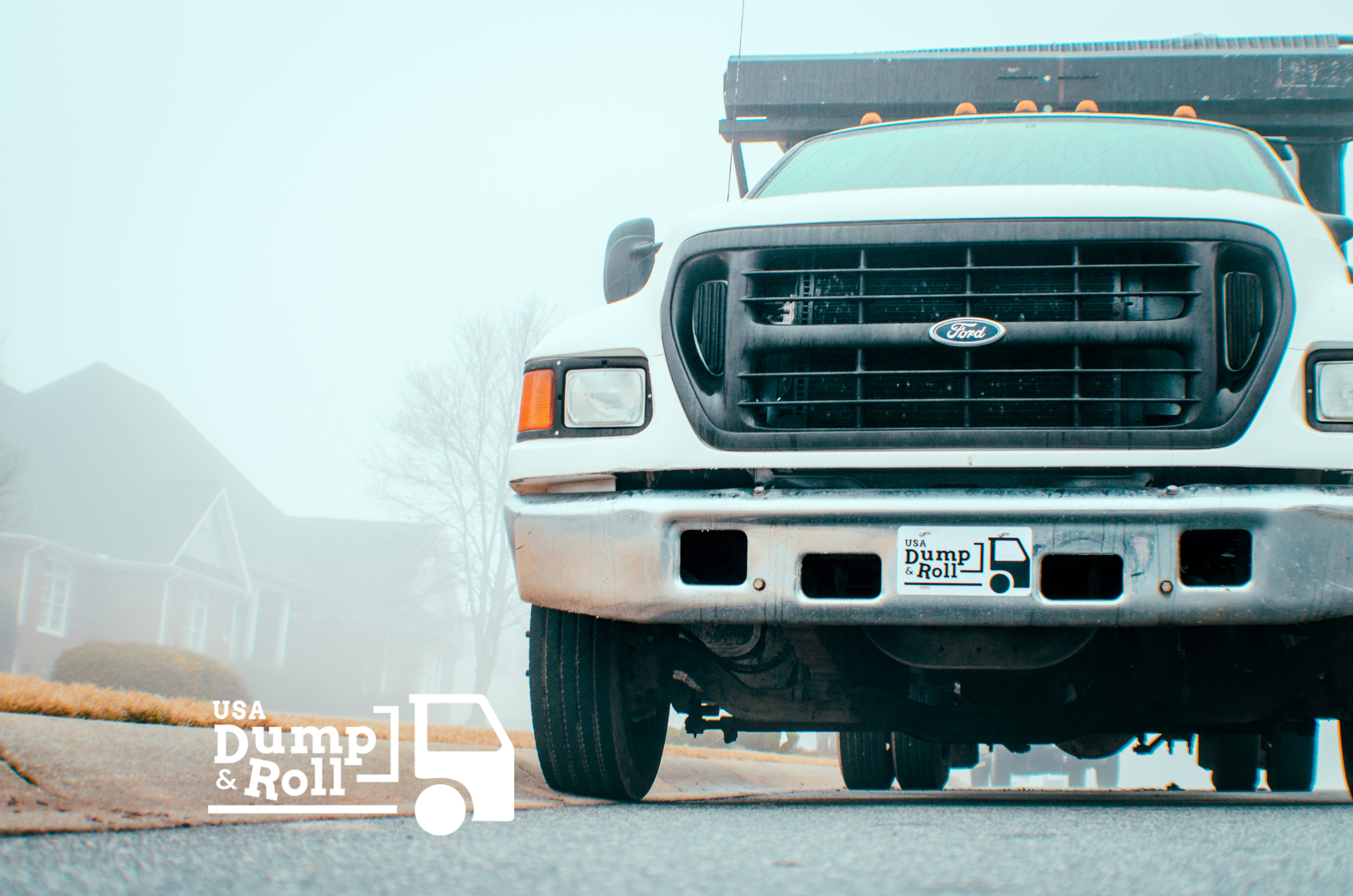 Roll Off Dumpster Rental Lyman SC Business Owners Count On for Reliable Services
With the roll off dumpster rental Lyman SC business owners use year-round, our customers can accomplish all of their debris removal goals in one fell swoop, granting them the time, energy, and funds to focus on running their business. We regularly work with government offices, factories, retail stores, restaurants, office parks, apartment complexes, retirement facilities, warehouses, school districts, and commercial entities by providing the roll off container Lyman SC uses to load and haul away bulky, cumbersome waste with ease. Whether you're managing an office park renovation, scheduling a foreclosure cleanout, or wanting a commercial dumpster rental Lyman SC trusts on-site to help clear waste during move-out season at an apartment complex, we take great pride in working directly with local businesses to assist with all of their short- or long-term waste removal needs.
Cheap Dumpster Rental Lyman SC Roofing Professionals Trust
For the durable, cheap dumpster rental Lyman SC roofers use to contain and haul away waste, choose the selections from our locally owned and operated company. When responsible and budget-friendly waste removal is your goal, we're here to help. Our fleet of heavy-duty bins helps support a range of roofing projects, from minor residential repairs to complete commercial replacements. Use the dumpster rental Lyman South Carolina roofers count on to clear shingles, tile, nails, wood, scraps, and other debris with ease and security! Just give us a call or use our convenient online booking tool to schedule a delivery directly from your job site today.
Heavy-Duty Construction Dumpster Rental Lyman SC Contractors Use for Jobs of All Sizes
Book the construction dumpster rental Lyman SC contractors and companies count on for safe, efficient, and affordable waste removal services to support their varying projects, big or small. Whether you're managing a new infrastructure site or housing development, our commercial-grade bins will help you complete the job by keeping bulky, potentially hazardous materials contained and out of harm's way.

Our options for a Lyman SC construction dumpster are equipped to hold shingles, nails, tile, trimmings, lumber, plastic, piping, metal, and other unwanted construction debris. We do not accept bins filled with concrete or rocks over one-quarter of the way. Get in touch with our team for more information about scheduling a dumpster rental for construction use today! We're happy to supply the top-rated dumpster rentals for construction debris in Lyman SC and surrounding areas.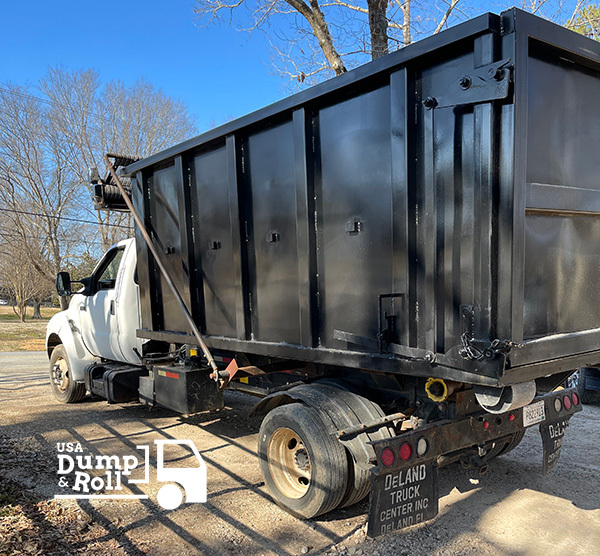 The Top Choice for a Roll Off Dumpster Rental in Lyman SC
We understand you have many options to consider when searching for the best roll off dumpster rental in Lyman SC to help you reach your specific waste removal goals, which is why we strive to be the most reputable, reasonably-priced, and reliable provider in the area. We've learned the ins and outs of this industry and all possible scenarios to better serve our customers. Whether you're clearing out your home in preparation for a move or managing a large-scale demolition site, we've handled it all.

We work directly with our nation's leading manufacturers to supply heavy-duty, easy-loading, open-top bins that won't damage your property. Safety is our top concern, which is why every container is inspected and sanitized before and after each rental to ensure our customers receive a like-new delivery when they schedule a roll off dumpster rental in Lyman SC from USA Dump & Roll! We make it easy and hassle-free to schedule our services with our state-of-the-art online booking platform. Just browse our available options, select the best size for your project, and check out using our secure system. Any questions? Give us a call at (864) 707-8200 to speak directly with one of our dumpster experts today!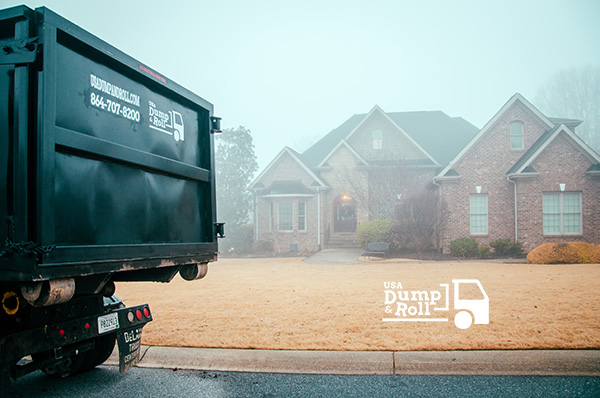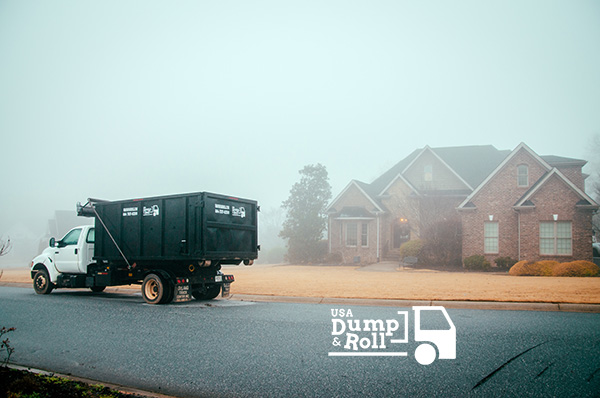 How to Book a Lyman SC Dumpster Rental Online
We make scheduling a Lyman SC dumpster rental as simple and straightforward as possible with our user-friendly online booking platform. Just choose the best bin size that will help you reach your project goals with ease, add it to your cart, and check out with a few clicks!

Follow the steps below to book the 5-star rated dumpster service Lyman, SC depends on most using our online system:
1) Click the blue "Book Now" button in the upper right corner to get started.
2) View our three available Lyman SC dumpster rental size options and details, including dimensions, rental time, included tonnage, and additional information, then click the blue "Book Now" button next to your ideal size.
3) Review the description and pertinent information then click the blue "Add to Cart" button.
4) Select your "Service Type" from the drop-down menu then click "Continue."
5) Click the "Choose Date" button, then select your desired drop-off date and pick-up date.
6) Review your cart and click the "Checkout" button to begin confirming your order.
7) Input your contact, billing, dumpster placement, and important information before clicking the "Continue" button.
8) Submit payment information using any major credit card.


Once you submit the order, you'll receive a confirmation email from our company with a digital copy of your receipt. When you book with the Lyman dumpster rental pros Lyman SC residents, businesses, and construction companies rely on, you can rest assured that the process is as streamlined as possible. It's that easy to reserve a bin and schedule a delivery! If you'd prefer to speak directly with one of our staff members, give us a call at (864) 707-8200 and we'll get you set up in no time.
Versatile Lyman, SC Dumpster Rental Sizes
If you're on the hunt for Lyman, SC dumpster rental sizes that cater to a wide scope of residential and commercial waste removal project goals, you've come to the right place! We offer three versatile bin sizes that help customers clear waste in a convenient and cost-effective way. Take a look at our sizing guide below and schedule a delivery online.

10-Yard: Measuring 11' long by 6.6' wide by 3.6' high, this bin begins at $315 for up to 14 days of rental time with one ton of waste disposal included in the base price. This size is used for residential projects like knocking down walls, removing flooring, renovating a half bathroom, or cleaning out the attic.

15-Yard: Measuring 13' long by 7' wide by 4.25' high, the 15-yard begins at $365 for up to 14 days of rental time with two tons of waste disposal included in the base price. This bin is often rented to help support residential remodels like laundry rooms or small bedrooms, cabinetry removal, or sidewalk demolitions. This is a conducive size for smaller roofing repairs, two-car garage cleanouts, and yard cleanups.

20-Yard: Measuring 13.5' long by 7.3' wide by 5.8' high, our largest sizing option begins at $450 for up to 14 days of rental time with two tons of waste disposal included in the base price. Use the 20 yard dumpster rental Lyman SC contractors depend on for safe and easy cleanup during new construction projects!

Additional days and extra weight are available for purchase when you use our Lyman SC dumpster services at $5 per day and $65 per extra ton. If you have any questions about which bin would be the best fit for your specific waste removal needs, get in touch with us today, and we'll be happy to walk you through your options.
Unveiling Lyman, SC: A Mix of History, Community, and Natural Splendor
Nestled in Upstate South Carolina, Lyman is a town rich in history, bursting with community spirit, and surrounded by natural beauty. As part of this lively community, we at USA Dump & Roll are thrilled to share the unique aspects that make Lyman truly special.

Nature lovers will find solace at Lyman Lake Park. This gem offers serene lake views and a wide range of recreational activities, from fishing to picnicking. For history enthusiasts, the Lyman Mill Historic District offers a glimpse into the area's industrial past, enhancing the town's charm.


A Taste of Lyman, SC: Local Culinary Delights
Lyman's food scene is a delightful representation of the town's warm and welcoming spirit. At USA Dump & Roll, we're proud to support the local eateries that add so much flavor to our community.

Begin your culinary journey at Clock of Lyman, a family-owned restaurant serving up scrumptious Southern classics. For a bite of authentic Italian cuisine, stop by Antonio's Pizza and Pasta, a local favorite renowned for its delicious dishes. And don't miss Southern Delights and More for their sumptuous breakfast and lunch offerings.


The Heart of Lyman, South Carolina: Schools and Community Life
The essence of Lyman lies in its dedicated schools and vibrant community events. Schools like James F. Byrnes High School and DR Hill Middle School, both part of Spartanburg County School District Five, play a vital role in shaping the leaders of tomorrow.

Lyman is also known for hosting several community events throughout the year. The annual Lymanfest in the fall and the Christmas Parade in December are beloved traditions that bring residents together in a lively celebration of their town.

At USA Dump & Roll, we're committed to preserving the beauty of Lyman. Whether you're embarking on a major home renovation, planning a community event, or organizing a comprehensive cleanout, we're here to cater to all your dumpster rental needs in Lyman, SC.
Delivering Dumpster Rentals Lyman SC and Surrounding Areas Count On
Choose USA Dump & Roll for dumpster rentals Lyman SC residents, businesses, commercial entities, property managers, and construction professionals count on for year-round waste disposal service. We offer delivery to a broad range of areas in Spartanburg County, including the 29334, 29365, and 29385 zip codes. If you're searching for the best dumpster rental Spartanburg SC has to offer, look no further! Our service area includes Greenville, Simpsonville, Travelers Rest, Piedmont, Greer, Lyman, Wellford, Reidville, Spartanburg, Taylors, Woodruff, Duncan, Mauldin, Fountain Inn, and other neighboring communities.

USA Dump & Roll is proud to be a community-driven business in Lyman, SC. We strive to help small businesses, residents, and organizations in our local area by providing reliable and cost-effective options for disposing of unwanted items quickly, so they can focus on growing their own businesses and achieving their goals in a waste-free and clean environment. We partner with local clubs, government offices, and District Five Schools of Spartanburg County to ensure all waste is properly disposed of. Whether you're enjoying the day at The Park of Lyman Playground, strolling around Lake Lyman, or taking in the sights at River Place Park, it's our goal to make sure Lyman continues to be a safe, sanitary, and enjoyable place to live.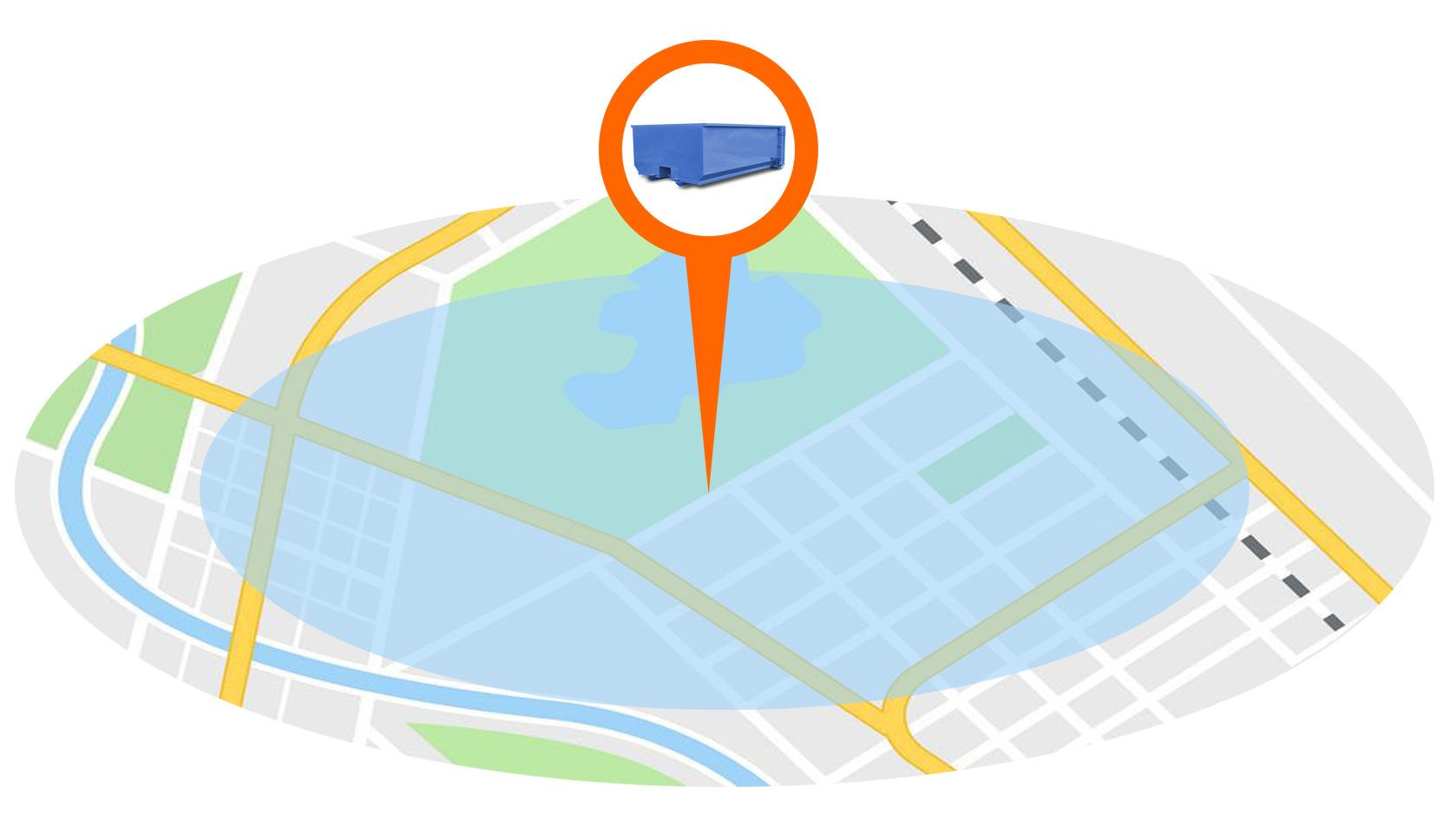 We've worked diligently to build a solid reputation within the community with our excellent customer service, competitive rates, and transparent pricing when you schedule dumpster rentals Lyman SC depends on from our staff. Customers know they can rely on us time and time again, so if you're looking for an easy solution for disposing of unwanted items, look no further than USA Dump & Roll! Contact us today for a free quote and start taking advantage of our quality services today!
View Service Area
FAQs for the Dumpster Lyman SC Uses Year-Round
There are many factors to consider when booking the best dumpster Lyman SC has to offer from a reputable, well-established provider, which is why we've compiled a list of frequently asked questions for first-time customers to browse and learn more about our process. If your question remains unanswered, give us a call at (864) 707-8200 and our team will be happy to assist you further!
Q.
What is included in a standard rental?
A.
Standard rentals include the dumpster, delivery, pickup, and disposal of all waste materials. Additional fees may apply for hazardous waste disposal and other special services. For a customized quote tailored to your location, add the dumpster to your cart, input your delivery address, and view the grand total in your cart. Our options for a budget dumpster Lyman SC and surrounding communities trust most make it easy and convenient to contain and haul away waste to help complete a range of projects.
Q.
Are there any restrictions on what can be placed in the dumpster?
A.
Yes – all accepted materials should be non-hazardous such as construction debris, household refuse, yard debris, and other general waste. Certain items will incur an additional fee, including paint, tires, mattresses, depressurized appliances, electronics, vehicle batteries, depressurized gas bottles, and rear projectors. Prohibited items include medical waste, animal carcasses, solvents and liquids, asbestos, fluorescent or mercury bulbs, and concrete or rock filled over one-quarter of the bin. If you have any questions about your specific needs for a roll off dumpster Lyman SC residents, businesses, and contractors depend on, give us a call today to learn more. aliqua.
Q.
Is there a weight limit when loading the dumpster?
A.
Yes, we ask that you not exceed the weight limit indicated on your contract when loading the dumpster Lyman SC chooses first to ensure the safe transportation and handling of your waste materials. Our drivers cannot remove the bin if waste exceeds the top of the container or falls over the sides. Contact us if you need assistance determining how much weight is allowed on your order.